Meet the Artists: Rip and Alison Caswell
10/24/2018
"It is folly to think that we can destroy one species and ecosystem after another and not affect humanity. When we save species, we're actually saving ourselves." –Joel Sartore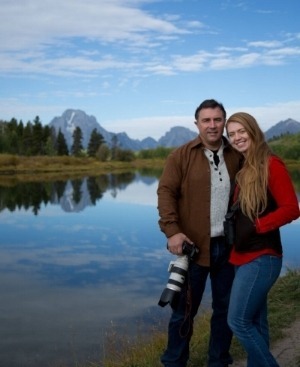 Rip and Alison Caswell's inspiration comes from spending time with wildlife. They will sometimes travel across the globe to witness animals in their natural surroundings. Research like this allows them to get a sense of the unique mannerisms, personalities and subtleties of the wildlife they represent in their art. Their love of wildlife and the stories of their expeditions into the wild is captured in their bronze sculptures. Each sculpture they create tells a piece of the animals story that the Caswells learned in their time getting to observing it.



Both Rip and Alison have created artwork their entire lives, and sculpture cast in bronze is a mutual passion. Combined they have over 30 years creating monumental public artwork and wildlife sculptures. They hope that their artwork will evoke admiration and love for the wildlife, and that viewers will feel inspired to protect the animals with which we share the planet with.
"When we take action to protect wildlife, we help to revitalize the bond between mankind and the natural world that surrounds us."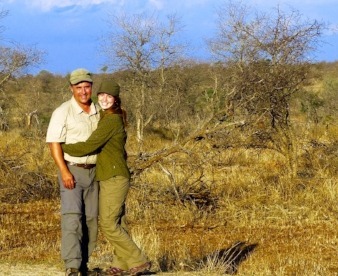 Rip & Alison on safari in Africa
The Caswells built their artistic foundation in the taxidermy industry, creating fiberglass mounts that have become the industry's standards for anatomy reference and forms. This began their process of familiarizing with wildlife, observing animals in nature and obtaining real-life reference, measurements and sketches. In 1991, their taxidermy forms won best in the nation at the National Taxidermists Association's Annual Competition. They have created similar forms for the Smithsonian's Natural History Museum, and other notable museums. Twenty five years ago they transitioned from taxidermy to fine art bronze sculpture. They have maintained a database of references taken from actual animals they had in hand from their taxidermy to guide the creation process and anatomical accuracy of their bronze sculptures. Since transitioning to fine art, they have created bronzes for a number of the nation's most influential donors of conservation causes.
Each piece starts with references they have complied including illustrations and photographs of the animals from all different angles.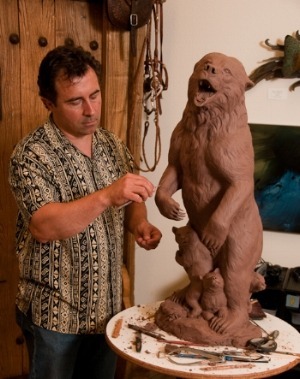 "We use photographs taken from a distance to capture the silhouette of the animal, and then we take up-close photos to capture subtle features to incorporate textures and small details into the sculpture."



Circumference and linear measurements from the animal are taken and labeled on their illustrations to define the anatomical markers they follow when creating the sculpture in clay. Notes taken in the field describing unique mannerisms and notable features are referenced and incorporated into the piece. The details of the animal's movement, gesture, gaze and pose brings it to life.



"It is important to witness the presence of the animals in person so we can transfer their same presence into sculpted artwork."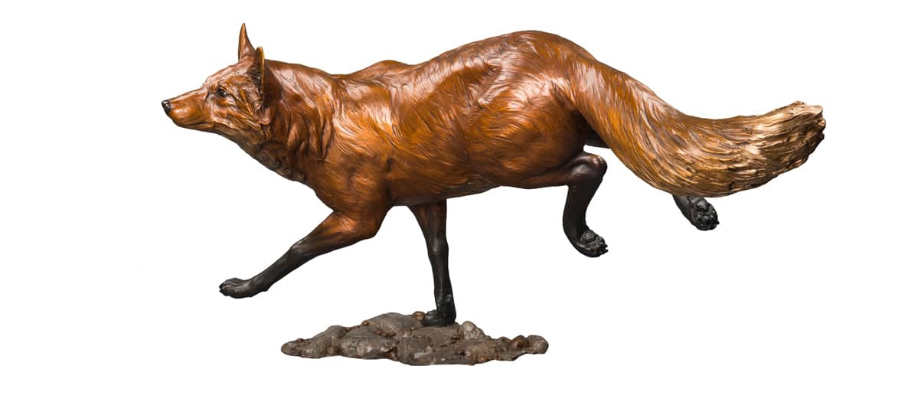 Out Foxed | Life Size Bronze
The initial gesture gesture of the animal is created in a natural oil-based clay. Scaled down reference measurements are taken using calipers to make sure the anatomical proportions are accurate on a smaller level. Each sculpture requires approximately two hundred hours in the studio perfecting the clay piece from start to finish. Then the process of casting it in bronze begins.
The process to take a sculpture from clay to bronze is called Lost Wax casting. Rip and Alison own a casting facility called Firebird Bronze Foundry and employ 15 artists who are individually specialized in different aspects of the casting process. It typically takes 12-16 weeks to cast a sculpture in bronze, depending on the complexity of the sculpture. The Lost Wax method of casting has been used for over 6,000 years and still remains the single best way to create artwork in bronze.
Awards
2016 United States Naval Order, Honorary Member
2014 Audubon Society, Featured Artist Recognition
2008 High Desert Museum, Artist Awarded Permanent Display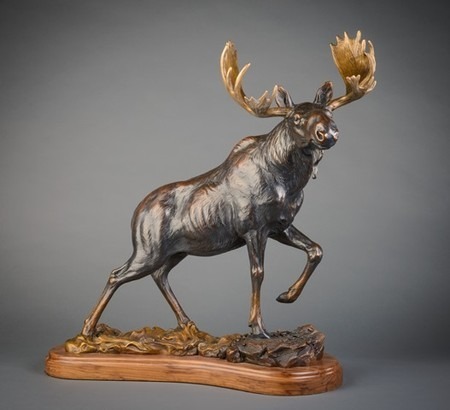 "Crossing Over" | Available in 10x9x4 or 21x24x8