Meet the Artist: Bridgette Meinhold
10/24/2018
"I arise in the morning torn between a desire to improve the world and a desire to enjoy the world. This makes it hard to plan the day." -EB White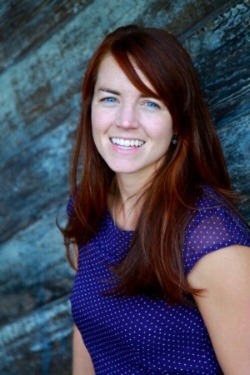 Photo Credit: Clare Wiley
Bridgette finds her inspiration by walking in the woods, being outside in inclement weather, watching fog roll off mountains, and seeing the light play on the landscape. The unique landscapes she creates in her pieces capture memories of wild spaces in beeswax to preserve the feeling of being outdoors and connecting with nature. Her art brings the connection with the outside in. The depth she creates with the layers in her work evokes the calm serene feeling of the mountains in the morning or following a storm.
"By showcasing beautiful places, we draw attention to lands we love and by loving them, we can inspire others to protect them."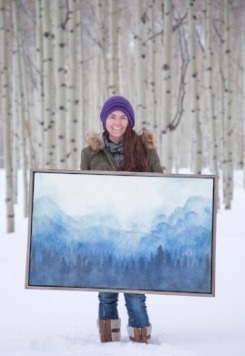 Photo Credit: J.P. Gendron
Bridgette lives a unique lifestyle with her husband, Matt in an A-Frame cabin outside of Park City. Her studio is built into a shipping container and Matt builds all of her frames.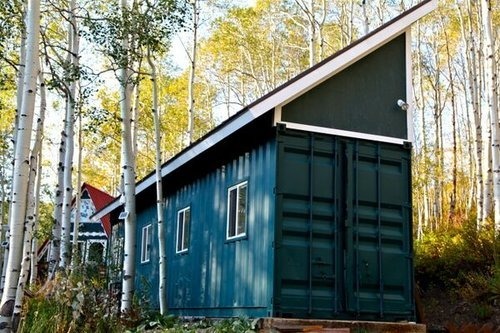 Bridgette's shipping container studio.
"In the winter, we get too much snow, so we snowmobile home for 6 months of the year [including art!]. It's a fun lifestyle - in the winter, we backcountry ski right from the house, and in the summer, we mountain bike to world class trails from the house too"
Gallery Wild is proud to represent an artist who supports conservation of open spaces with the proceeds of her work. Bridgette's passion for and appreciation of wild spaces is felt through each of her pieces. She brings the landscape alive in her work by pulling from a combination of sketches, watercolor, photographs and memory. The layers and texture of the final piece is very unique and really shares her experience of the landscape with us.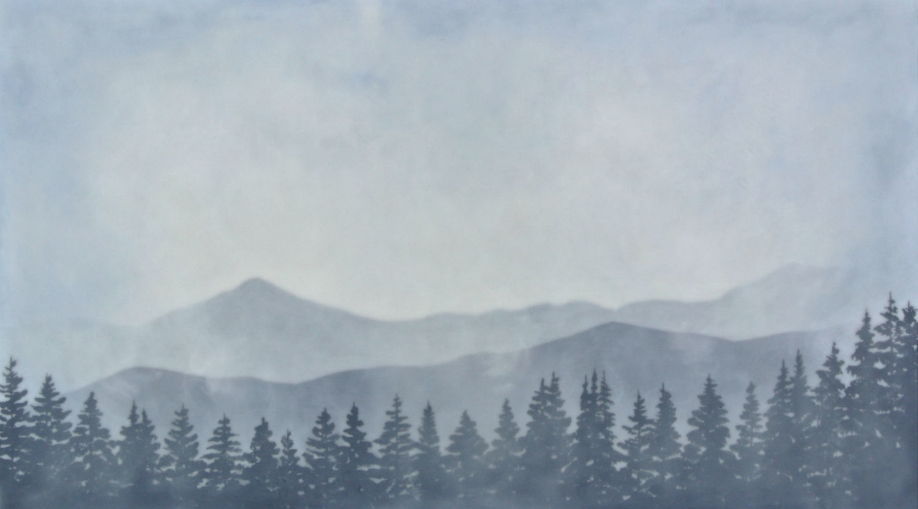 Settle In | Encaustic & Milk Paint | 20x36
Bridgette's passion for the environment and inspiring others to protect open spaces didn't start with art, though being an artist was always a desire. She has a BS in Mechanical Engineering from SDSU and a Master's in Civil & Environmental Engineering from Stanford. Initially she worked as a sustainability consultant helping companies reduce their environmental impact. When the economy tanked and that work dried up, she began writing for websites and other publications focusing on green design, sustainable architecture and eco fashion. She also wrote a book during this time about sustainable architecture in the context of natural disasters. Though that work was in line with her education, during this time period she also followed her passion for art and began painting again. Thanks to a rafting trip on the Green River through Desolation Canyon, Utah, the time disconnecting with technology and reconnecting with nature gave Bridgette the clarity to determined she wanted to be an artists. You can read about this journey in her new self-published book
Down Deso
.
Bridgette's process is very unique in that she uses encaustic paints. Encaustic painting uses heated wax mixed with pigments. It is an old medium, but has gained popularity in the last decade. Bridgette took a encaustic workshop in 2009 and fell in love with the look, feel and way it worked. She is largely self-taught and has developed her unique process and techniques.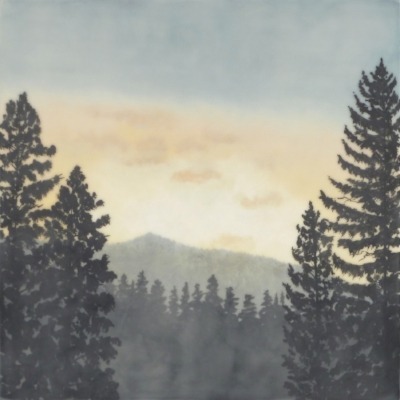 "End of Day" | Encaustic & Milk Paint | 20x20 | Featured in Western Art Collector November '18
Each piece is painted on hard wood panels starting with a layer of gesso to prime the surface. To create a 3D landscape in a 2D space, Bridgette layers encaustic with milk paint. The beeswax is melted in electric skillets and applied using large 8 inch brushes. The layers not only create the look of depth in the landscape, but actually creates depth in the piece of work. The trees and mountains are painted with milk paint, and the color is rubbed into the wax using pigment sticks. As the wax cools, it hardens. Bridgette uses a torch and scraping tools to make each layer smooth. The piece is finished with a final layer of wax and nothing more.
Watch a time lapse of Bridgette working